Born and raised in Coral Gables, Florida, Dougan Clarke spent most of his summers growing up in a boat shop where he rigged boats and worked with marine-grade materials such as fiberglass, teak, acrylic fibers, polymer, aluminum alloys, wood epoxy, and polyester resins. Dougan Clarke started his career as a day laborer in a custom boat yard in Miami. Under the tutelage of his mentor, renowned South Florida craftsman and engineer Fred Herman, Clarke learned applied materials, material sculpting, molding, canvas construction and manufacturing methods from the marine industry.
In 1998, Clarke took his knowledge in marine design and founded The Ultimate Umbrella Company, Inc (TUUCI) in Miami. Clarke started out making a few samples of his new umbrella design, but didn't have enough money to buy a stall at trade shows. So, he would walk around the shows with his umbrellas, guaranteeing buyers that it would last 5-10 years. After showing his product to a few potential buyers, he received his first order and the formation of his company. Little did he know, he was on his way to becoming a leader in the outdoor shade category.
---
---
Clarke started with a simple mission: to create the most stylish, durable and functionally superior shade systems in the world. To achieve this, he looked for different ways to design an umbrella. "We found that pure construction wasn't enough to put us on the map as a unique shade manufacturer, so we started to look at different ways to construct a parasol," he says.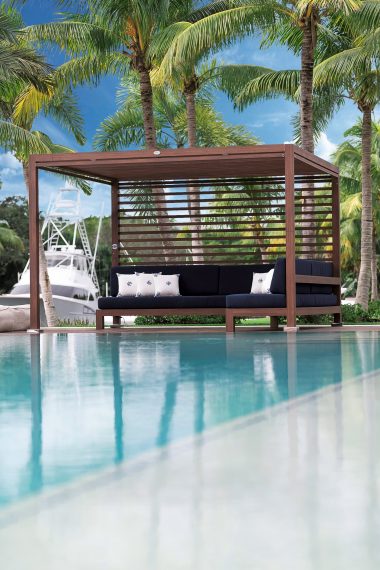 Through research and design, Clarke developed marine-grade shade systems equipped to withstand the elements that TUUCI is known for today. TUUCI's technology is meticulously engineered to perform under the harshest conditions, without question. But they don't just perform. They also turn heads with an unparalleled sense of style and design not seen anywhere else in the world. "I had a clear vision of creating visually attractive products that allow people to enjoy time outdoors without the risks of sun exposure," says Clarke. "The vision took off and in the past 17 years, TUUCI has been transformative in blending purpose and design, and helping people find a cool place in the shade."
Since day one, Clarke has also made environmental sustainability a top priority for the manufacturing process. All TUUCI equipment is engineered in a calculated way, as energy conservation and extensive recycling are key steps taken that minimize the brand's environmental footprint. Even product packaging keeps sustainability in mind. With many likeminded individuals at TUUCI, the brand supports dozens of environmental causes and non-profit community organizations such as The Coastal Conservation Association, The Miami Museum of Science, The Coral Gables Garden Club, The American Red Cross and Habitat for Humanity, among several others.
TUUCI products are handcrafted in Miami, home of its corporate headquarters and manufacturing center, but the privately owned company's business has spun out across the globe in recent years. In the past ten years, the company has doubled in size, creating more than 100 new jobs, growing from 102 employees to more than 250 today. TUUCI is one of the nation's top job creators, and was the 2013 and 2014 recipient of Inc. Magazine's "Hire Power" Award, celebrating privately held companies on the forefront of American job creation.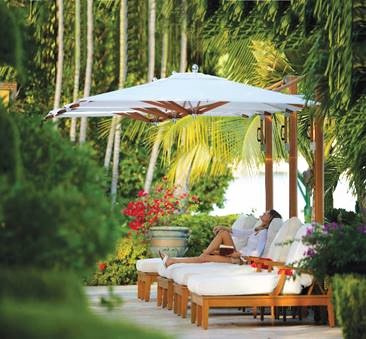 Also an avid musician, Clarke draws so much inspiration from playing music that he installed a dedicated recording and rehearsal studio in the TUUCI factory and his latest product, the Equinox Cabana, includes a music outlet, so that users can lounge in the Cabana while enjoying their favorite sounds. But it is his real love for the outdoors and nature that has inspired his design philosophy — to create a harmonious relationship between his shade products and the outdoor environments in which they exist, by delivering dynamic and inspiring designs which transform any outdoor space into comfortable settings that are both intimate and peaceful.
Clarke's durable designs have encouraged him to expand his brand globally throughout the US, Europe, Far East and South America, by complimenting the world's wondrous beauty with shaded areas to be enjoyed by those spending time outdoors. Currently, products offered include parasols, pavilions, lounges, hammocks, shade sculptures, anchors and shade accessories. TUUCI can be found in luxury retailers, such as Restoration Hardware and DWR, while also having a prominent showroom in the Chicago Merchandise Mart and at high-profile properties such as The Ritz Carlton and The Four Seasons. Today, Clarke holds about 15 patents on the systems he designed. Visit http://www.tuuci.com/.
The post Architect Uses His Marine Background to Design High-Quality Outdoor Furnishing Products appeared first on Home Business Magazine.