Lulu Lemon and Athleta have rightly earned their infamous, VIP status thanks to high quality styles and a wide variety of prints, but since the movement of mindfulness is quickly becoming more and more popular, other brands are a perfect fit as we all attempt to master that Downward Dog. On a mission to help all women improve their time on the mat and get motivated for their next yoga session, Flexi Lexi Fitness founder Micky Sivapruksa knew that flexible, fitting, and comfortable clothing is necessary to get the most out of any activity.
Whether it's an awkwardly fitting sports bra or leggings that are showing a little too much on the mat, we've all felt uncomfortable in our yoga wear before. With a desire to help women refocus their practice and help it grow, Flexi Lexi Fitness founder Micky Sivapruksa is making a real impact on feeling confident while keeping up with mindful activities.
Practicing prenatal yoga when pregnant with her first son in 2014, Sivapruksa realized that sports bras were too tight for expecting women whose chest usually increases a few cup sizes during pregnancy. Reaching the point where she was having to wear a bikini to her classes instead of a bra, she decided to try her hand at crafting bralettes. Flexi Lexi was born!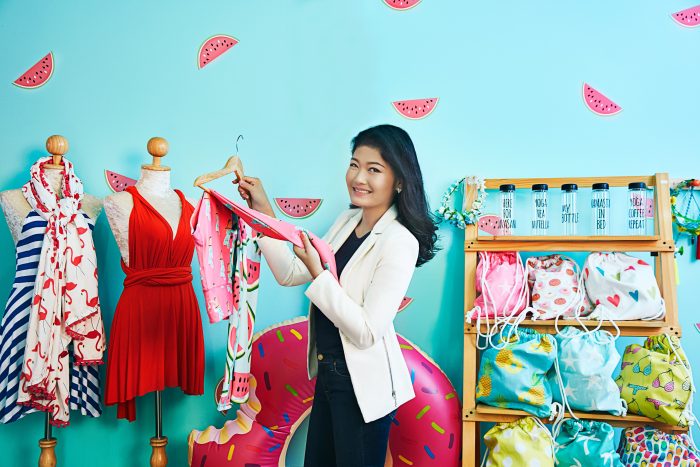 Providing comfort while staying unique, Sivapruksa created Flexi Lexi to put the fun back into sports bralettes and leggings. Breaking into the world of yogi fashion, Mickey utilized the power of Instagram. With a quickly growing following, notable yogis across the globe have become interested in her designs and after a few months, everyone knew about Flexi Lexi.
In 2015, Sivapruksa successfully launched the Flexi Dancer Leggings Collection. With the introduction of this line came the ever popular Pineapple and Watermelon Yoga Pants. Known not just for their bralettes, but for fashionable, fun pants and leggings – as well as an adorable Mini Flexi Lexi Collection for kids to match their moms – Sivapruksa has built a brand committed to keeping everyone cute and comfortable while they practice their own forms of mindfulness.
Offering flexible, fitting, comfortable and chic clothing, the styles from Flexi Lexi can be worn for any occasion. Rapidly expanding her online store to sell yoga pants, dancer leggings, shorts, mermaid tails, ballerina tutus and more, Sivapruksa is a firm believer in the notion that the more colorful and cute your activewear, the more motivation you'll have to get up and moving!
What drives her? Sivapruksa gets a kick out of creating new designs and collections for Flexi Lexi. Constantly motivated to help women look and feel good, she truly believes her greatest success is balancing work and family:
"My sons are always with me at work. But, I also make time to bring them to school, pick them up, bring them to swimming classes, little gym and all other activities – and at the same time taking care of my business."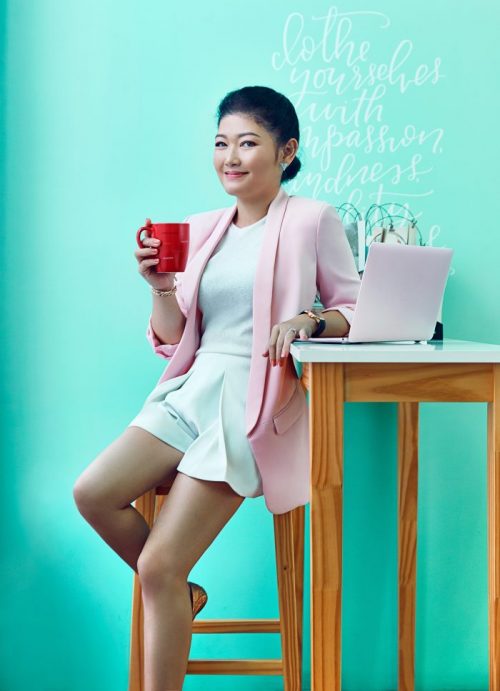 Inspired by comfort, style, and fun prints, Micky fully invests her creativity, yogi experience, and time to making fashion and yoga her full time job. A hustler and goal getter, Sivapruksa has a flagship showroom based in Bangkok where the headquarters and warehouse are also located. Living in Thailand and raising her two sons, she is breaking boundaries for her business while watching them grow and experience new things.
What advice would she give to others aspiring to grow their business?
"Always follow your dreams and don't say I can't. Because you can and you will. It might sound cliche, but I think most of the time people who believe in following their dreams succeed."
Crafting styles that are effortlessly graceful, beautiful and encouragement movement, Flexi Lexi founder Micky Sivapruksa saw a demand for yoga and daily activewear that actually fit the everyday, modern woman. Easy to wear, gorgeous and fun, these pieces are a match made in heaven for hot yoga, yoga, Vinyasa yoga, barre, and even pilates! Deeply dedicated to helping everyone express their inner and outer beauty, Sivapruksa is consistently creating new, fresh and innovative pieces to promote a happy, healthy and active lifestyle.
Hundreds of Business Opportunities – Visit the Home Business EXPO
The post Flexi Lexi Fitness Entrepreneur Mickey Sivapruksa Conquers The Growing Mindfulness Movement appeared first on Home Business Magazine.