Now is the time to get in the real estate investment business. Act urgently, because the rental market will be experiencing a huge boom as fewer and fewer millennials buy homes – and the data supports it. Due to the financial crisis faced by universities, an increased number of graduates are entering the workforce with a huge amount of student debt, preventing them from buying homes, and steering them into the arms of your potential rental property. Take a look at just how many recent graduates are encumbered with debt:
This graph shows that as of 2014, 61% of American graduates left school with debt in their name, and the percentage has steadily grown in the last three years as well. The weight of the financial burden is pretty hefty, too, as displayed below: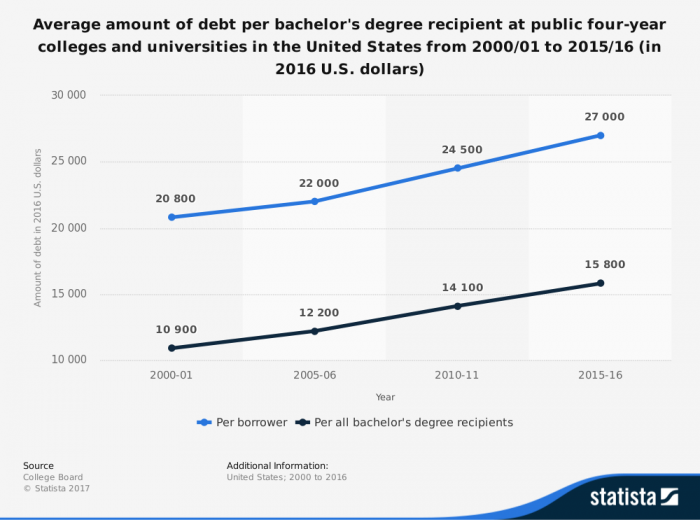 As you can see, it's not only borrowers who find themselves owing massive amounts of money – up to $26,000 on average in 2016. The lower line in this chart shows how Bachelor degree recipients who didn't even take out student loans still incurred, on average, $15,800 dollars in debt. Paying off thousands of dollars plus interest can take decades, and it makes taking out an additional mortgage loan extremely unappealing to young, first-time homebuyers. Instead, financial strategists predict that fewer and fewer millennials will purchase homes, and opt instead to live in rental units to save money after moving out of their parents' houses.
So what does this mean for you? Well, if you don't already have a real estate investment, now is a good time to consider buying into the market. Millennials, in the absence of expertise and job experience, won't be making high enough incomes to swoop in on your potential properties. However, if you already own real estate, now is the time to start getting competitive as more and more young renters flock in search of rentable units. If you're late to the curve, you're going to need to add amenities to property to sweet the deal and attract the best tenants – and charge the highest rent. How do you appeal to this younger generation who's poised to soon dominate the housing market? Here are the three hottest amenities millennials look for while they're on the hunt for their independent abode.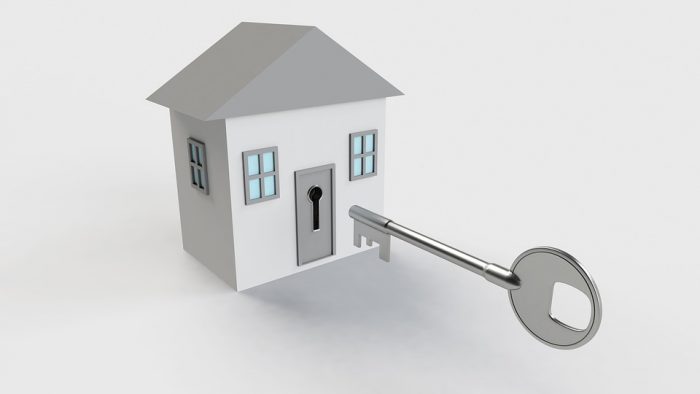 Air Conditioning. This is extremely popular within hot and humid clients. If your rental doesn't offer A/C, you could be separating the good applicants from the great ones. HVAC system not in your budget? Explore window options or swamp coolers to bring in more interested parties.
Laundry Hookups. Your unit might not come equipped with a washer and dryer, which is not an uncommon choice among landlords or property managers. However, if you choose not to offer these appliances, it's imperative you at least offer laundry hookups to keep your rental competitive. Most tenants are perfectly willing to buy or rent their own in order to save time at the laundromat. If you have hookups, be sure to mention it in your advertising or during tours; if you don't, contact a plumber to see how much it would cost to have them installed.
Dishwasher. Sometimes, renters will avoid a place altogether if it doesn't offer a dishwasher. For millennials, loading up a dishwasher is such a daily part of life, that it's hard to imagine living in a property without one. If your rental is missing a dishwasher, consult a contractor to see how much it would cost to set one up – it shouldn't be too expensive to remove part of a lower cabinet and getting pipes in place. If your property is simply too small to install a dishwasher, consider getting a compact unit that fits on a countertop or under the sink.
Real estate investors will soon be hopping on the rental train, if they haven't already. If you're looking to earn a lucrative income from a rental unit, you need to make sure your property relevant and up-to-date. Remember that as demand grows, so too will supply, and you'll need the latest and greatest amenities to attract this growing audience. Other simple amenities you should consider including are free Wi-Fi, complimentary utilities, and the benefits of online rent collection. If you act now, you'll beat your competitors to the punch and attract the best tenants at the best rates.
Hundreds of Business Opportunities – Visit the Home Business EXPO
The post Top 3 Amenities That Attract Good Tenants appeared first on Home Business Magazine.